Design Considerations
Light Control and Privacy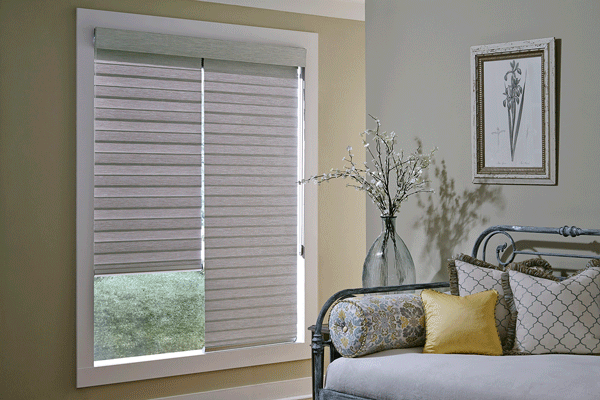 When choosing a suitable window covering for the home or office, it's important to keep in mind how products function. Part of that function, is the direction of light control and the opacity or openness. Various window treatments can help illuminate a dim room or help block out intense sun light which can cause furniture and flooring to fade. They can also alleviate glare on computer and television screens.
Daylighting
This is a term used more often these days and it's all about controlling and using the natural light from the sun to the best advantage for your home. You can save energy by using the sunlight to fill your home to avoid using artificial light. It's also a good way to add heat to your home during winter months or keep it out during summer months to keep that electric bill down.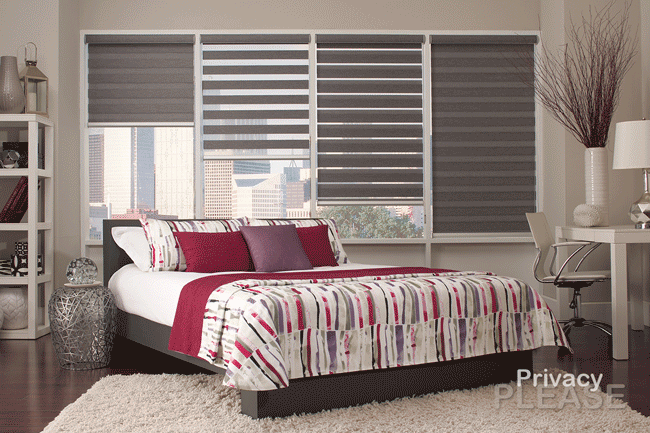 Direction
For products that have louvers or slats, depending on orientation (horizontal or vertical) the incoming natural daylight can be controlled from left to right or from ceiling to floor. The products listed below can help reflect light off of interior surfaces to add light to a room. In the same respect they can also deflect light to avoid unsightly glares.
Horizontal (floor to ceiling) Light Control
Vertical (left to right) Light Control
OPACITY

The amount and quality of light entering a room creates an atmosphere and affects its functionality. Lafayette offers many fabrics and materials with opacity ratings ranging from near blackout (5) to sheer (1). These simple numeric codes on each fabric swatch guide you to the degree of opacity that you desire. See below for explanation.
Sheer - Allows light to enter while reducing glare.
Semi-Sheer - Allows soft diffused light, moderate privacy
Semi-Opaque - Allows only filtered light inside. Provides substantial privacy.
Private - Filters more light, blocks view. Provides complete privacy.
Opaque - Blocks 99% of light. Complete privacy and greatest light control.
The following products offer varying opacity levels:
Openness
For our roller roman shades, openness refers to the weave density of the screen material affecting the degree of visibility, privacy, glare control, UV blockage. Light fabric colors reflect light from your room, giving you a softer view while preserving natural light and allowing less heat gain for greater energy efficiency. Dark fabric colors provide a crisper view-through with superior glare control and energy efficiency.
Screen shades address the quality of light control and privacy in a slightly different manner. In screen fabrics, the view-through and light control are a function of the density of the weave. The tightest weave – with the least view-through – has an openness factor of 1%. Fabrics with the highest level of view-through and visibility have an openness factor of 14%. Openness and color combine to light control, privacy, glare resistance and visibility. See below for further explanation.

| | | | | |
| --- | --- | --- | --- | --- |
| Openness: | Openness 1% | Openness 3% | Openness 5% | Openness 10% |
| View: | Least view | Some view | Moderate view | More View |
| Privacy: | Most Privacy | More Privacy | Some Privacy | Less Privacy |
| UV Blockage: | 99% UV Blockage | 97% UV Blockage | 95% UV Blockage | 90% UV Blockage |